"The Lyric" was a great success. The tone is beautiful and it has great carrying power. In the hands of the owner, it is a truly wonderful sound to behold.  After much wrangling, I was able to get the instrument back for the varnish job.
The first step is to take the setup down, remove the finger board and glue on a temporary protective board. I then scraped the instrument and took one more pass on the edge work and the chamfer on the scroll. Here it is, ready for the varnish process.

The next step in the process is to give the violin a nice suntan. I do this by placing the instrument in an ultra-violet light box and by exposing it to some morning sun. This step usually takes a week or more. Here is "The Lyric" in the light box.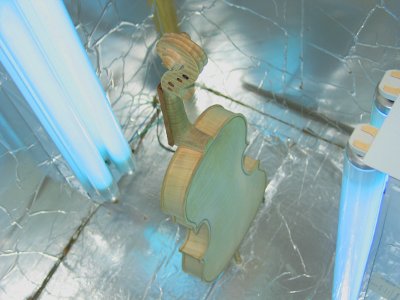 "The Lyric" gets a few rays of morning sun. Now she is ready for application of the ground.