Well, I guess I spoke too soon. Two of the sticks bent beautifully. The third one, not so much. All was going well and then, CRUNCH!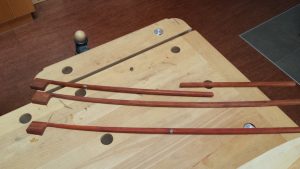 Too bad to. I really liked this wood. I liked it so much in fact that I quickly roughed out another blank from this board and bent it. CRUNCH!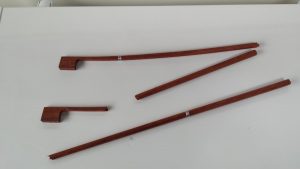 If you look carefully at the break you can see it broke all in one small place. Breaks usually run along the grain for some distance. Also, notice the breaks were not in areas that I was concerned about. Those areas that are wrapped with metal wire are areas of little imperfections that might be a problem during bending. I wrap them to give them a little extra support. There must have been some unseen flaw in the board.
At any rate, I have to go back to the New York area soon and I want to have hair on at least one of these sticks so I can have Maria try it out while I am there so I have to move on. I'll try another blank from this board when I get back.