I've been working and not blogging so I will just pick up where I left off.
The pinning silver arrived quite quickly so I proceeded with pinning the silver parts to the wood. With modern glues I don't know that this is even necessary anymore but it is traditional so I still do it. The idea is that you drill a little pilot hole (1 mm) through the silver and into the ebony and make a little silver nail out of 1 mm half-hard silver wire. You drive this nail into the frog and file off the little protrusion that is left.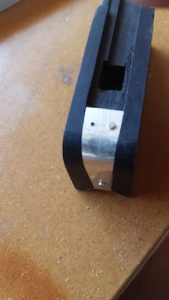 After all of the silver parts are pinned to the frog, the next step is to rough-in the shape. I gouge out the curve in the cheeks and roughly carve in the thumb notch.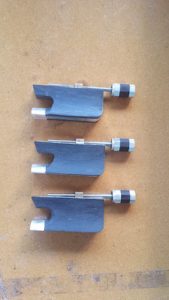 I will set the frogs aside now. I like to finish the shape and install the pearl eyes after the frog is installed on the stick.
Finally, we now move on to the sticks!