With the frogs brought to a semi-finished state, we now turn our attention to the stick. Bows are predominately made from pernambuco. This wood is from the state of Pernambuco in Brazil. Pernambuco is a knarly nasty wood with short curly fibers and a high lignin content. It is the perfect wood for bows. Other woods have been tried with inferior results. Due to over-harvesting, Brazil banned the export of pernambuco. Fortunately I was able to purchase a lifetime supply before the ban. The wood I have was harvested in the 1940's and the 1970's so it is well seasoned and makes quite nice bows.
The first step is to select the wood. I measured the speed of sound through all of my wood when I bought it. For this commission I want to select several different speeds so I can be sure to end up with a bow that matches Maria's instrument. These boards range from 5300 to 5600 feet per second.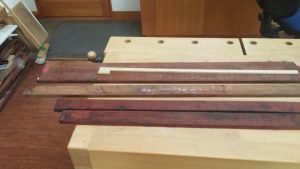 With the boards selected, I use a template to lay out the blanks. I need to be careful to get as much of the grain to align lengthwise through the blank and to avoid knots and defects (of which there are plenty in pernambuco).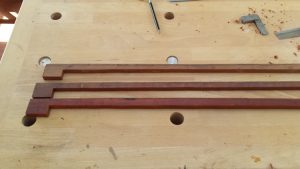 I use a bandsaw to cut out the blanks. I am now ready shape the blanks and get them ready for bending.